Best Materials & Professional Standards
We have invested in all the latest specialist tools and engendering techniques that is specifically tailored for the construction development.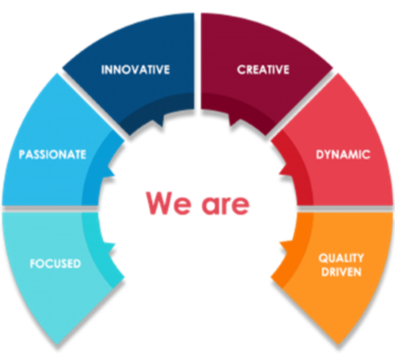 We are Focused, Passionate, Innovative, Creative, Dynamic, and Quality-Driven.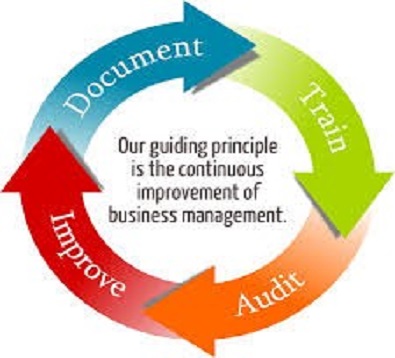 Document, Train, Audit, Improve – Repeat.
Our Guiding Principle is the continuous improvement of business management.
QUALITY, HEALTH, SAFETY & ENVIRONMENT POLICY
QUALITY REGISTRATION CERTIFICATES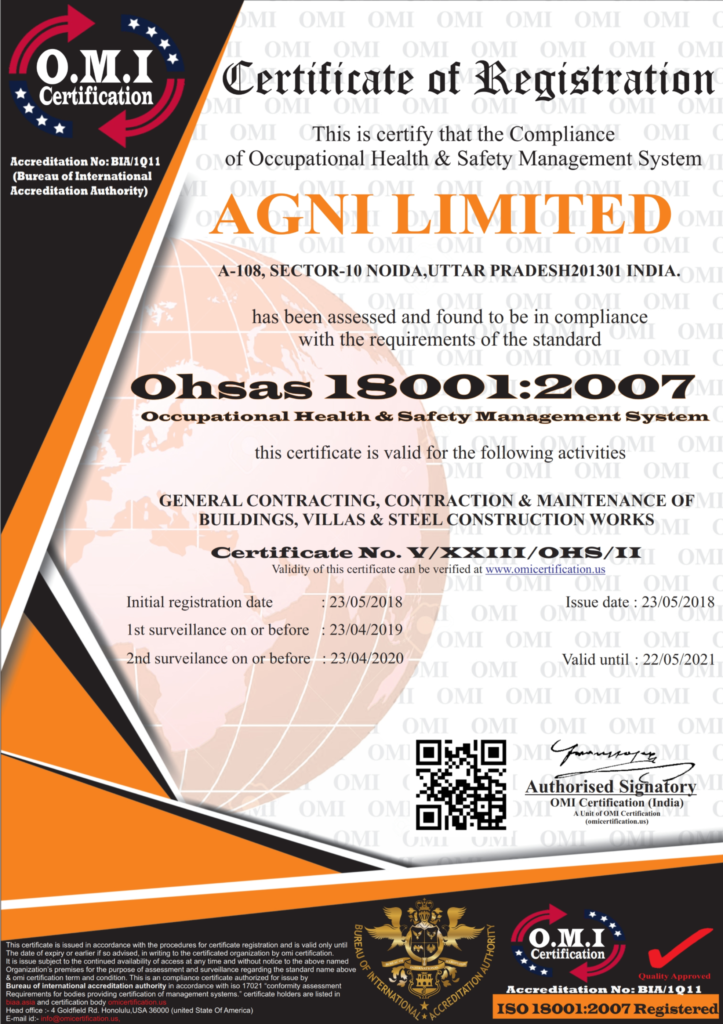 Mechanical Infrastructure
Infrastructure division of AGNI group can be remembered as the origins of the company. The company over a long period of time has built up huge infrastructure in the form of the modern machinery like Ready mix plant, Concrete batching plant, Hoist, Scaffolding, Hydraulic Compactors Heavy Excavators and all types of construction equipment. The company has also got a strong base of shuttering & scaffolding materials used for the structural works like Towers, High Rise Buildings Infrastructure.
Equipment List
| | | | |
| --- | --- | --- | --- |
| S. No. | Name of Equipment | Count | Unit |
| 1 | Concrete Mixture Machine | 26 | Nos. |
| 2 | Weigh Betcher | 4 | Nos. |
| 3 | Lab Instrument Machine | 10 | Set. |
| 4 | Hoist | 16 | Nos. |
| 5 | Pin Vibrator (Electric) | 40 | Nos. |
| 6 | Pin Vibrator (Petro) | 15 | Nos. |
| 7 | Plate Vibrator | 5 | Nos. |
| 8 | Welding Set | 6 | Nos. |
| 9 | Gas Cutter and Plug Cutter | 10 | Nos. |
| 10 | Winch Machine | 8 | Nos. |
| 11 | Leveling Instruments | 12 | Nos. |
| 12 | Therodolite Machine | 12 | Nos. |
| 13 | Vacuum Dewatering F/M | 16 | Nos. |
| 14 | Diesel Generator | 18 | Nos. |
| 15 | Pump Set | 12 | Nos. |
| 16 | Shuttering Plate (Steel) | 4.5 Lac | Sft.. |
| 17 | Scaffolding Pipe | 3.0 Lac | Sft. |
| 18 | Wodden Balli | 10000 | Nos. |
| 19 | H. Frame | 200 | Nos. |
| 20 | Earth Compactor | 5 | Nos. |
| 21 | J.C.V. | 4 | No. |
| 22 | Pock Lane (on Hire) | 2 | Nos. |
| 23 | Road Roller (on Hire) | 2 | Nos. |
| 24 | Water Pump | 50 | Nos. |
| 25 | Strength Test Machine | 8 | Nos. |
| 26 | Rebound Hammer | 4 | Nos. |
| 27 | Stone Hand Cutter | 18 | Nos. |
| 28 | Wood Cutter Machine | 10 | Nos. |
| 29 | Pug Machine | 5 | Nos. |
| 30 | Air Compressor | 2 | Nos. |
| 31 | Drill Machine | 25 | Nos. |
| 32 | Hydraulic Jack Hammer | 5 | Nos. |
| 33 | Multi Meter Digital | 5 | Nos.. |
| 34 | Vibrator | 40 | Nos. |
| 35 | Vibrator Needle | 250 | Nos. |
| 36 | Trench Compactor (Rammers) | 8 | Set. |
| | | | |
| --- | --- | --- | --- |
| 37 | Bomag 1-2 T Roller | 2 | Nos. |
| 38 | Toll Kit for Mechanic | 10 | Nos. |
| 39 | Steel Binding Machine | 18 | Nos. |
| 40 | Measuring Tape | | |
| | 5Mtrs. | 50 | Nos. |
| | 15Mtrs. | 40 | Nos. |
| | 30Mtrs. | 50 | Nos. |
| | 50Mtrs. | 10 | Nos. |
| | 100Mtrs. | 10 | Nos. |
| 41 | Fabricated Night Stand for Light | 110 | Nos. |
| 42 | Hilti Machine for Re-baring | 5 | Nos. |
| 43 | Concrete Pump | 1 | No. |
| 44 | Batching Plant – RMC | 3 | No. |
| 45 | Tower Crane | 4 | Nos. |
| 46 | Total Station | 2 | Nos. |